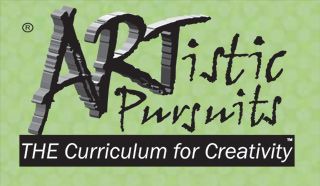 I know I've mentioned this numerous times through life of this blog, but it bears repeating. I am NOT an artistic person in the least. I believe when God formed me He threw away the artistic bone because it is NO where in my body. Additionally, He is sitting in heaven getting a good laugh out of the fact that He has blessed me with children who enjoy drawing and are genuinely interested in learning to be better artists. So what is a homeschool mother like me to do? Hope, pray, and research art curriculum in the hopes that one of them is a solid fit for our family. Like other subjects in our curriculum collection I knew I did not want an art curriculum that merely taught children how to draw. I want something that is steadfast in art theory, artist appreciation and history, and yet easily explains artistic concepts in short yet concise lessons. I firmly believe that art is one subject where children should have the freedom to create as they please without boundaries or limits. I don't want long in depth art lessons that force children to conform to certain artistic boxes.
As a motion of grace, God blessed me with the opportunity to review
Artistic Pursuits
as a part of the Schoolhouse Review Crew. There are numerous levels to choose from but I specifically reviewed
Elementary 4-5 book one
.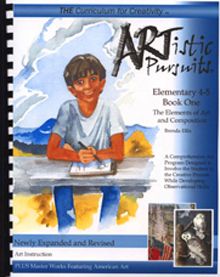 When my boys ages 11 and 8 saw that we had been blessed with an art curriculum to review they were very excited and happily pestered me for days to get to the art store so we could pick up the supplies needed to start this program. Which I should mention for the first 7 units all that are needed are 4 ebony pencils, 1 vinyl eraser, 1 metal sharpener, 1 sketch pad, 1 paper sack, and a drawing board is optional. I was able to pick these supplies up at our local craft store for a minimal amount of money even considering I had to double the amounts due to two students.
As expected my boys dove into this program full heartedly. Not only are they learning drawing techniques, but this program also incorporates american art appreciation and history, builds their visual vocabulary, and at the end of each unit students get to apply everything they have learned in that unit into a final art project.
As a busy homeschool mother of 6, three of which are ages 2 and under I appreciate the brevity of each lesson while still maintaining a high level of education rigor. These lessons are packed with instruction but can be taught in under 15 minutes, the remainder of the lesson time is as it should be, time for the students to be creative and spend quality time practicing the technique introduced in that lesson. I enjoy not only teaching my boys a subject that they love but also watching them explore the artistic side of their personalities. I am not an artist in the least, I struggle with stick figures, so it is simply amazing to me to watch them create amazing sketches from a simple lesson that even a non-artist like myself can teach.
My boys hard at work
I can say with heartfelt honesty that I will be purchasing additional books from Artistic Pursuits when we finish the current book. There is a variety of art curriculum levels to choose from, everything from preschool through high school.
Artistic Pursuits, Elementary 4-5, book 1: The Elements of Art and Composition
Comb-binding, 92 pages, 68 lessons, 230 illustrations
Written for ages 9 and up, samples of this curriculum can be viewed at the link above
$47.95
Disclaimer: I received a free copy of this product through the Schoolhouse Review Crew in exchange for my honest review. I was not required to write a positive review nor was I compensated in any other was. All opinions are my own or those of my family. I am disclosing this in accordance with the FTC Regulations.