I grew up speaking Spanish, it was everywhere in the community in which I spent my childhood. As a new Mom I was diligent to teach my little ones to be bi-lingual but admittedly with each new addition speaking Spanish to them has become less and less of a priority. However, because I still personally retain the ability to speak the language I am particular when choosing a Spanish curriculum for our homeschool studies. As a member of The Schoolhouse Review Crew I had the opportunity to review
Spanish for You!
Estaciones e-book
with my 3rd and 6th grade boys.
Spanish for You! is a year long curriculum for 3rd to 8th graders. There are 5 units in the entire book but you can work at your own pace, with 4 days per week as the recommended study frequency.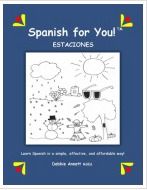 Spanish for You! currently offers 2 themes for their curriculum, fiestas and estaciones. They are planning to add a third theme, viajes, in the near future. Because the curriculum is based on themes you do not need to choose level, but rather whichever topic you want to learn about first.
You can view samples of each here:
Each curriculum set includes (from the website)
With my older 2 boys I used Estaciones the recommended 4 days per week. Each days activities took them 20-30 minutes which I thought was very reasonable considering the material taught. Each lesson begins with new vocabulary and making flashcards (or you can print them). There are also fun activities and games to play to reinforce the words that are being learned, such as simon says. In addition to the games, the audio files really helped my boys pronounce the words. For some reason my native accent is hard for my oldest to understand and replicate, he was able to learn the words much easier with the audio files. As a homeschool Mom with multiple ages to teach, I love when a curriculum can be used with each of my children and taught simultaneously, this feature is such a time and sanity saver.
Both of my boys thoroughly enjoyed this curriculum and I think it was a great way to introduce them to the language. For my 3rd grader who grew up speaking Spanish, it was a great refresher for him (since I've seriously been lacking in reinforcing his Spanish skills). If you are looking for an introductory Spanish curriculum, you should consider Spanish for You!
Estaciones Pricing:
Grades 3-8, $64.95
Grades 3-4, 5-6, or 7-8 $39.95 each
Extra books, $12.95 each