As a member of The Schoolhouse Review Crew I was given the opportunity to review the
Phonics and Reading from McGuffey
iPad app from
Literacy Soft
with my 6 year old daughter. My daughter is currently in Kindergarten and does not have much interest in learning to read so I was excited at the opportunity to give her a new tool to help spark her interest in learning to love reading.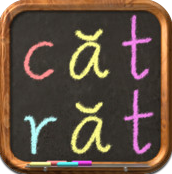 This iPad app is a 52 step program that when completed your child will be reading at a first grade level. Because my daughter shows little interest in reading and therefore is not at a typical kindergarten reading level, I appreciated that this app meets the child where they are currently at and expands from there to teach the child to enjoy reading.
To most effectively use this iPad app, I incorporated these lessons with the reading lessons we normally do one-on-one. When we are finished reading together, my daughter was able to use this app for as long as she liked (within reason of course). Using this tool she found a new interest in reading together and looked forward to her learning time on Mommy's iPad.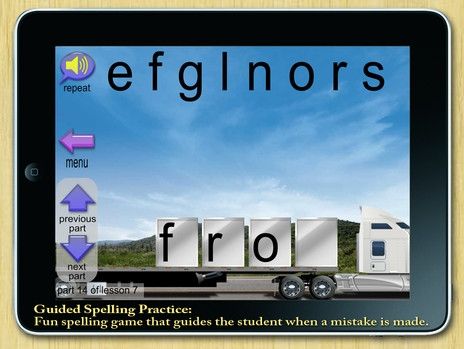 Using games like the one shown above children learn to spell and read. The app is designed very well with an easy to use interface and large letters which make dragging easy for little fingers. In the time that we had for this review my daughter made noticeable improvement in her reading ability. At bedtime when we read together she now picks out words and says them all on her own without my prompting, I couldn't be more thrilled with her progress.
According to the website, this program is appropriate for homeschoolers, adult learners, dyslexia, and ESOL learners.
The Phonics and Reading with McGuffey App is carefully crafted to:
• Ensure no expert phonics supervisor is needed for students to gain maximum value from the lessons
• Work for any literacy level
• Act as your own personalized tutor, except in a computer
• Let students set their own pace, repeating or slowing down lessons as much as they like
• Guide your student step-by-step through reading and spelling practice
• Provide multi-sense learning including sound, vision, and motion to appeal to a wide variety of learning styles
• Utilize the power of synthetic phonics – the dyslexia-busting learning technique
• Be simple and easy to use for students at any level
Details about the product:
Price: $19.99 through the
iTunes store
, it is also available in the
lite version
to try for free.
Over all I am very pleased with this learning tool and will continue using it with my daughter as well as my younger children when they are ready.