Dry storage becomes an essential part of your pantry when you make the transition to real foods. Not only is it better to store dry goods in a quality sealed container to maintain the freshness of the product but many times when you switch to real foods buying in bulk is most economical. When you buy in large quantities you will need food grade dry storage containers to keep the nutritional value and freshness of your foods.
There are many options available for storing your bulk grains, homemade snacks, and other high quality real food items that are now stocked in your kitchen.
Dry Bulk Storage options:
2 gallon bucket: 2 gallon buckets are most commonly used for storing small quantities of food or water. I have a few buckets of this size which I bought containing peanut butter. I keep these buckets to store overflo
w of dry goods which might not fit in the 5 gallon bucket or my smaller pantry dry storage containers.
5 gallon bucket: A five-gallon bucket will hold approximately 37 lbs. of dry rice and 33.5 lbs. of dried beans. Additionally, this size bucket will hold approximately 25 lbs of flour depending on compaction of the grain.
When storing dry goods in plastic buckets your choice of lids is critical. If you do not purchase a tight fitting lid then you food will spoil quickly.
Traditional bucket lid: Most people who store dry goods do not use the traditional white lids that come with the plastic buckets by default. These lids are fine if you are storing an item that you use quickly or that will not perish quickly (a month or less).
Gamma lid: The gamma lids are the more popular and wiser choice when it comes to purchasing lids for your dry bulk storage. Gamma lids are constructed in two parts. There is an outer ring which snaps securely to the outside top portion of the bucket. There is then a part in the middle which twists on and off of the outer ring. This lid construction insures a tighter fit and better option for long-term dry bulk storage and food freshness.
The most affordable place that I've found to purchase buckets and gamma lids is from
Azure Standard
.
Pantry/Kitchen Dry Good Storage:
The most important part of choosing dry good storage options for your kitchen and pantry is the quality of the seal and the functionality of the container. If the container you choose does not for an air tight seal then the food that you worked so hard at acquiring will spoil and go to waste. Also, if the container is not easy to open, close, and provides free access to your food item then you will experience frustration in the kitchen. Cooking real food is fun and incredibly satisfying, please don't let a poor choice of kitchen storage container derail all of the hard work and effort you put in to creating your real food kitchen.
With that in mind and taking those 2 important points into consideration, my favorite kitchen and pantry dry good storage container is the
OXO Good Grips Pop-Top Container
(affiliate link). These tight sealing and very functional dry good storage containers come in all sizes which is perfect for a variety of kitchen and pantry uses. I use the small ones for storing spices and small quantities of items we use for oatmeal and steel cut cereal toppings. The larger containers store things such as cocoa powder, beans for short-term uses, oats, rice, the list is virtually endless with options. I like that these containers have a very tight seal but you can open them with a simple push of a button. The only downfall is that they are not easy on the wallet. However, I have skirted this problem by shopping around and acquiring them as we can afford. A large kitchen and bath chain frequently mails coupons for their store, I save those and use them to buy these OXO pop-top containers at a discount. This option is particularly useful when you need a particular size. Otherwise, I have found that the large box stores have a 12 piece set for a very reasonable price. Just this week I purchased my second set.
An additional point that I like about these OXO containers is that they are clear sided. Being able to quickly see what is in each container (I haven't had a chance to label them with my label maker) makes cooking quicker and easier.
Dry storage can be fun and strangely satisfying, if you are one that likes to be organized like myself (just don't look at my desktop).
What methods do you use for your bulk dry good storage?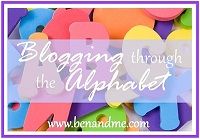 Blessings,